Go to the Fodors website by clicking HERE
Normandy Tours
Posted by: kvbutler on 27 Sept , at 1:38am
Posted in: Europe
Tagged: France
My wife and I have just returned from France and can highly recommend 'Normandy Safaris' for anyone interested in a 5-day inclusive tour of Normandy beaches, battlefields, museums and cemeteries, plus historic sites such as Bayeux (for the tapestry), Falaise (for William the Conqueror's castle and the decisive last battle for Normandy), Mont St-Michel, Giverny, Honfleur, and the beautiful Normandy countryside.
The tour is conducted by Martin Reeve, a delightful Englishman, who carries up to six passengers in his van. We stayed in very nice country B & B's with good food, and Martin arranged great picnics on three days on high points overlooking Omaha Beach, the Seine and the Falaise Gap battlefield. Martin is witty, knowledgeable and a very agreeable guide and companion.
I have suggested that Fodor include Normandy Safaris in its listing of private tour companies operating in Normandy. We found it to be just right for us, a perfect alternative to driving and trying to find everything on our own. The website is found at www.normandysafaris.co.uk.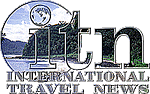 The following are previously printed, candid appraisals of some of the tours ITN readers have taken in the last year or so. To share your travel experience with other ITN readers, write to Tours in Review, c/o ITN, 2120 28th St., Sacramento, CA 95818 or e-mail your review to info@intltravelnews.com. Always include the date of your trip and addresses of any company mentioned. (International Travel News prints material from its subscribers only. Please include your full mailing address so that your subscriber status can be verified.
Or go to the ITN website by clicking HERE
Normandy Safaris For our trip to Normandy, France, in May-June '04. we wanted to have one base for our 5-night/6-day stay plus a guide who would provide transportation and be familiar with the area.
Martin Reeve's Normandy Safaris (57 Raley Rd., Locks Heath Southampton S031 6PB, England; Phone 01489-576081 or visit www.normandysafaris.co.uk) provided a perfect match for our requirements.
Martin Reeve proved to be well informed and an excellent driver. He takes no more than six adults in a very comfortable minibus.
Our day tours included the D-Day beaches, several D-Day museums, the American cemetery at Omaha Beach and Pointe du Hoc. We also visited the Bayeux Tapestry and Monet's Garden at Giverney. Other highlights included the castle of William the Conqueror in Falaise and the historic castle at les Andelys. The trip to Mont-Saint-Michel went through Domfront, a very pleasant and very typical Normandy town.
One great advantage of using a guide (apart from not having to drive and navigate) was that Mr. Reeve provided a detailed and running commentary on the sights plus an in-depth discussion of the history that led up to various events.
When the weather was good, which it was during most of our trip, the group purchased bread, cheese, ham, wine, etc., in a local supermarché and had a picnic lunch, generally in a secluded spot with outstanding views. Plates, silverware, blankets etc were provided. In the evenings we would have dinner in a brasserie or farm restaurant on our way back to the B&B.
We were sorry to leave after such a pleasant and informative trip. On the last day, we all had lunch in Honfleur, a picture-perfect ancient port at the mouth of the Seine. None of us could think of a more pleasant and convenient way to see and learn about Normandy, and we thanked our lucky stars for finding Martin Reeve and his special tours of Normandy.
R.A.H. GOODFELLOW Carmichael, CA
---
FRANCE

We first became aware of Martin Reeve's Normandy Safaris (57 Raley Rd., Locks Heath, Southampton S031 6PB, U.K. phone 01489-576081, e-mail info@normandysafaris.co.uk or visit www.normandysafaris.co.uk from a reader's recommendation in ITN (Nov. '02,pg. 79).

After planning the trip details via e-mail correspondence for several months, we took our 6-day/5-night tour in July '03. Mr. Reeve normally limits his "safaris" to six participants, but he made an exception for our 7-member, 3-generation family group. The land cost was £530 (near $993) for each adult and £418 ($783) for our 10-year-old daughter. We received a small discount because we had a full group.

This was a fantastic way to see and learn about Normandy and its 1,000-year history. We stayed at a refurbished country manor owned and run by an English couple, Kit and Diana Wordsworth. They were delightful hosts. We had breakfast there each morning and three superb dinners, sharing interesting conversation with them.

Our "safari" included visits to the castles of Richard the Lionheart and William the Conqueror plus the Bayeux Tapestry, Monet's gardens and home, Omaha Beach and other points of interest. Mr. Reeve shared his considerable knowledge of all these places before we visited them, making each stop on the tour more meaningful and enjoyable. He timed our visits so we were able to see the sites thoroughly yet not be rushed.
At lunchtime, we typically went to a supermarket, stocked up on bread, pâté, cheese and wine and had a picnic overlooking the Seine or the French countryside. Mr. Reeve pro-vided china and silverware for our picnics. We also enjoyed stopping in village cafés.

As we look back, we're amazed at how much we saw, did and learned during this trip. Mr. Reeve obviously put considerable effort into planning, organizing and conducting our tour. The result was an enjoyable and unforgettable experience.

· STEPHEN WILSON, Roseville, MN
---
France.

In May '02 we were most fortunate to tour areas of Normandy with Martin Reeve, owner of Normandy Safaris (57 Raley Rd., Locks Heath, Southampton, S031 6PB, United Kingdom; phone 01489-576081, e-mail info@normandysafaris.co.uk or visit www.normandysafaris.co.uk).

For our 6-day/5-night tour, the cost was $721 per person, double occupancy. This included pickup from the ferry port or railway station, daily transportation with driver/guide, accommodations (with facilities en suite) located in the picturesque countryside outside Vimoutiers, daily breakfast and three delicious dinners complete with fine French wine.

The price did not include entrance fees, lunches and two dinners in local bistros.

This holiday was a rare find, in our estimation. Normandy is rich in history, that of World War II and back to the era of Richard the Lionhearted and William the Conqueror in the 11th and 12th centuries. The countryside itself is beautiful, as well.

Our itinerary included Pegasus Bridge (WWII site), 13th-century abbeys, a 15th-century timber-framed market hall (on market day), Monet's Garden at Giverney, Bayeux (tapestry and cathedral), Omaha Beach and museum and more.

Martin Reeve, owner and guide, is a delightful Englishman who maintains a home in Normandy, speaks French and is extremely knowledgeable on the area and its history. It was such a pleasure touring around without a worry as to how to find a place or how to communicate with our limited command of the French language.

There was a maximum of six people on this tour, traveling in a 7-seater VW Caravelle. The dress was casual and lunches were picnics (weather permitting) overlooking fabulous vistas, with cheese, pâté, bread and wine from the local markets.

You haven't seen it all until you experience a "Normandy Safari." - GARY & MARTHA ROBBINS, St. Louis, MO

Go Back